Australian Apron Makers for Kitchens and Workshops
Please look at the following pictures of our hard wearing safety aprons.
This first class material is exclusive to Australian Apron makers.
It is the latest in vinyl coated fabrics.
Tested to Australian standards, it is fire resistant, stain resistant
and sanitised to inhibit growth of bacteria, mould and mildew.
Recommended cleaning is with soap and water before wiping clean.

oooooooo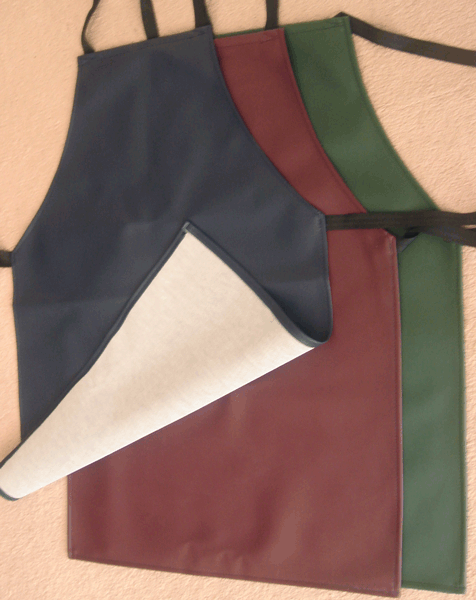 We can send you a sample.

Colours: Navy Blue, Burgundy or Green
Size: 77cm X 52cm

Straps: 60cm
Price $22.10 (inc. GST)
plus $4.60 postage and handling


(special prices for bulk orders)
email us at austapronmakers@bigpond.com

We accept by cheque or direct debit to
Commonwealth Bank,
South Yarra,
Victoria,3141
Australian Apron Makers
BSB: 063170 - Acc No: 10105610
ALL OUR APRONS ARE UNCONDITIONALLY GUARANTEED AS TO QUALITY OF THE MATERIAL AND THE WORKMANSHIP OF THE APRON ITSELF.